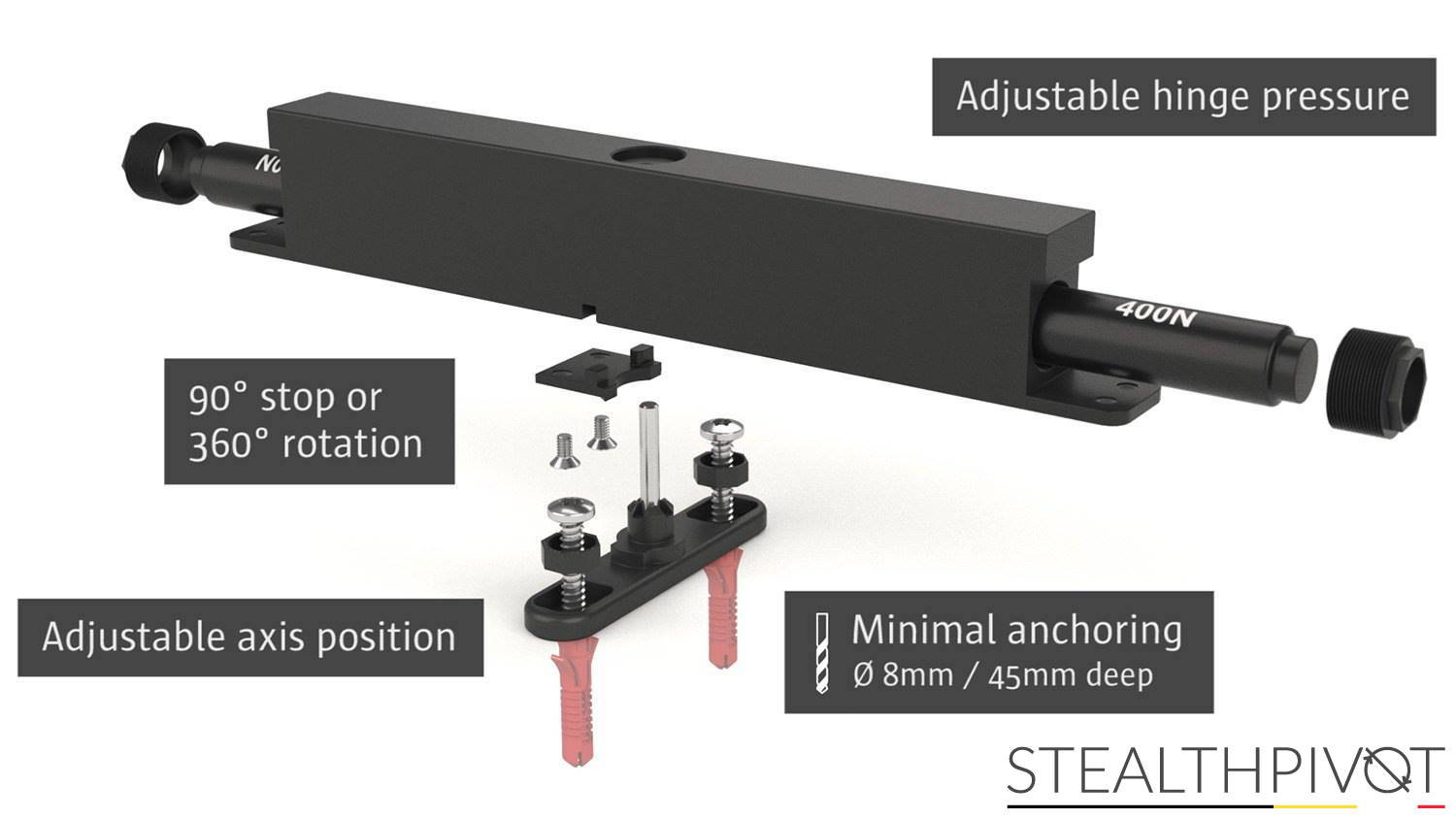 Pivot door hinge system
Stealth Pivot is one of the most versatile and compact self-closing pivot door hinge systems available on the market. The pivot hinge features self-closing technology, self-levelling, 180° and 360° functionality and supports doors up to 150 kg.
It's one of the few pivot hinges available that don't require any structural built-in elements inside either floor or ceiling. The pivoting hinge is completely integrated inside the door leaf and simply attaches directly to the finished floor and solid or reinforced ceiling with 2 minimal bolts.
Due to its compact design it can be fitted inside virtually any door leaf.
Pivot hinge without built-in floor or ceiling parts
Stealth Pivot is designed with easy installation & integration in mind. The compact pivot hinge is fitted inside the door at the top and bottom.
During development, a great deal of attention went into ease of installation, to ensure that the resulting pivot system could be used in both new and existing homes, regardless the construction, without the need for any pre-installed elements.
Stealth Pivot
Size: 170 mm x 41 mm x 25 mm
Designed for doors up to 75 kg - 165 lbs
Modular offset axis point: 80 mm or 178 mm
Swing operation: 180°
1-way 90° or 2-way 180° configurable
90° open/hold positioning
Magnetic positioning accessory
Closing technology with Suspa gas springs
Adjustable closing force 300N - 400N
Maintenance free design
Stealth Pivot XL
Size: 270 mm x 41 mm x 25 mm
Designed for doors up to 150 kg - 330 lbs
Offset axis 1/3 or central axis position
Swing operation: 180° or 360°
1-way 90° or 2-way 180° or 360° configurable
90° open/hold positioning
Magnetic positioning accessory
Closing technology with Suspa gas springs
Adjustable closing force 400N - 500N
Maintenance free design