Modular aluminium pivot door system
Portapivot 5045 is designed as a minimal anodized aluminium spaceframe suitable for interior pivot doors & XL room dividers.
Portapivot's aluminium spaceframe structure is offered in a made-to-measure, self-assembly kit specifically designed for interior professionals and craftsmen. The aluminium spaceframe can be fitted & finished with various materials such as MDF, Resopal Massiv, Hi-Macs, Corian, Ceramics, lacquered or mirrored glass, ... The finishing possibilties are virtually endless!
The anodized aluminium frame can be purchased in the E-shop and is available in 3 anodized colours: natural silver, black and bronze.
The frame is equipped with our invisible "Stealth Pivot" pivoting hinges, designed to be mounted on top of a finished solid surface, without the need for any built-in fixtures. Portapivot 5045 & Stealth Pivot are designed for indoor residential use.  
Innovative pivot hinges
Portapivot's 5045 frame is equipped with invisible Stealth Pivot hinges, which feature a high-tech comfort closure, that works in all swing directions.
These hinges make it possible to tailor make a pivot door up to 150 kg, that feels as light as a feather. Stealth pivot allows the door to swing in all possible directions. The hinges can pivot eccentrically at 80 mm or 178 mm for normal sized doors and can be positioned at 1/3 or centrally for the XL versions.
The hinge is mounted on top of the finished floor and underneath a solid or re-inforced ceiling surface, without the need for any pre-installed fixtures. The minimal anchoring (2 bolts +-4.5 cm deep) allows for easy installation on any type of solid surface.
---
Unlimited finishing possibilities
Made to measure self-assembly kit
Portapivot's 5045 system is sold in a made-to-measure self-assembly kit, that consist of the aluminium frame, a set of invisible Stealth Pivot hinges and all the necessary assembly and installation accessories. Only the finishing materials such as wood, MDF, HPL, Resopal Massiv, Hi-Macs, Corian, glass or ceramic materials should be sourced at a local supplier. The 5045 frame is custom-build to your coordinated measurements. After order processing, we can calculate the appropriate material dimensions and send these by PDF, DWG & DXF.
Ordering proces:
Calculate the appropriate frame dimensions
Configure the 5045 frame using our visual 3D configurator 
Select the desired Stealth Pivot set
Add handles or other accessories if desired
After order processing, you will receive the correct panel dimensions by PDF, DWG & DXF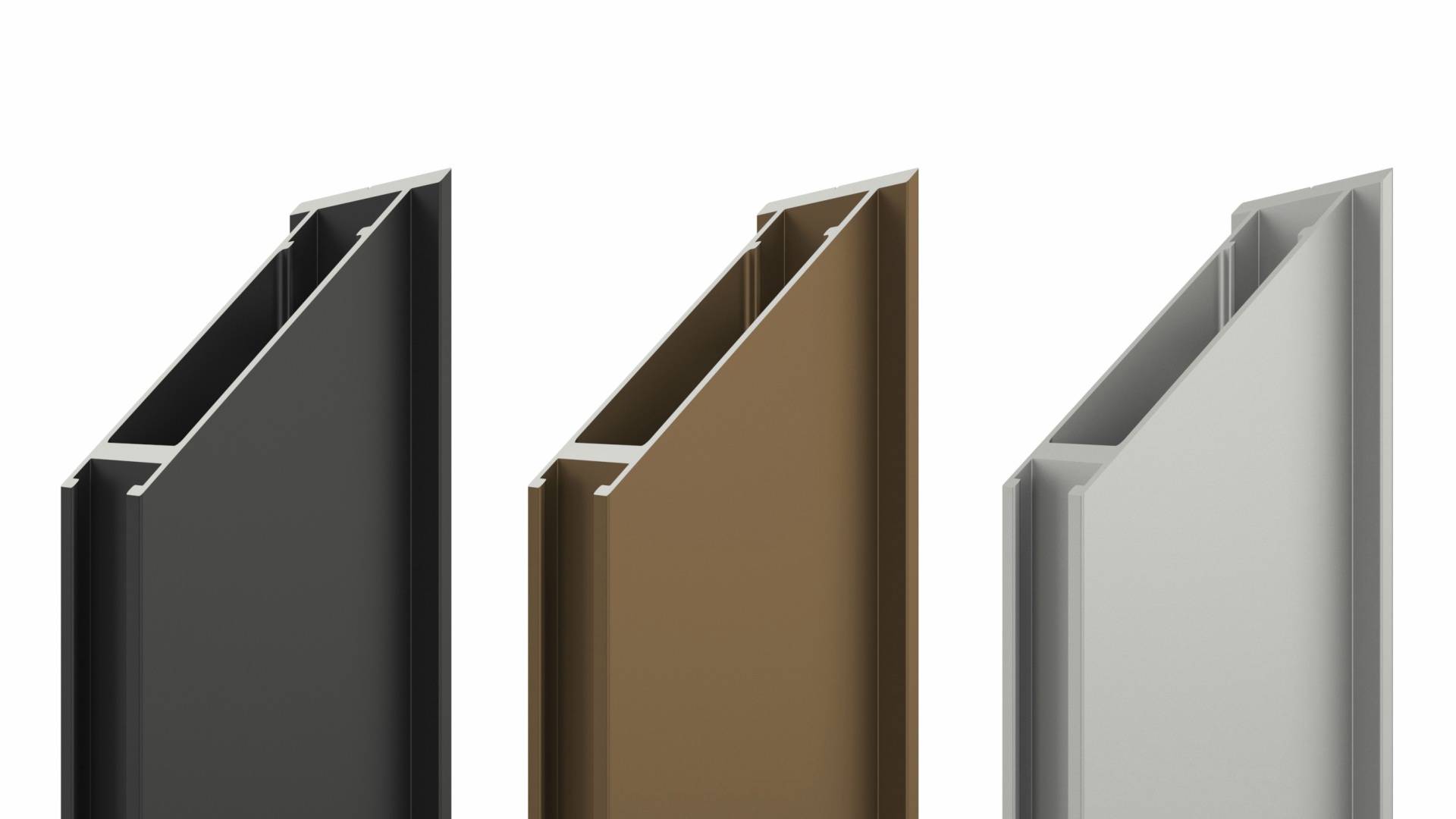 High-quality anodized aluminium profiles
All our profiles are made from anodized aluminium and are finished in one of 3 selected anodized colors. Anodizing is an electrochemical process which gives the aluminium surface a decorative, durable and corrosion-resistant, anodic oxide finish.
Aluminum is ideally suited to anodizing. The anodic oxide structure originates from the aluminum substrate and is composed entirely of aluminum oxide. This aluminum oxide is not applied to the surface like paint or plating, but is fully integrated with the underlying aluminum substrate, so it cannot chip or peel. It has a highly ordered, porous structure that allows for secondary processes such as coloring and sealing.
We work with a selection of high quality manufacturers to keep the final products as consistent as possible, but slight variances in color may occur.
---
High-tech materials & technology
Stealth Pivot hinge technology
Stealth pivot is a compact self-closing pivot hinge system. The pivot hinge is specifically designed to be mounted on top of a finished floor and onto a solid or reinforced ceiling surface.
The hinge is fitted inside the aluminium frame and therefor remains invisible after installation, hence the name "stealth pivot". The hinge doesn't require any pre-installed built-in parts as is the case with regular hinge systems or floor sprung systems.
All the necessary screws and plugs are included in the kit, for easy and straightforward installation purposes. The appropriate Stealth Pivot hinge set will be included, based upon the size of the Portapivot 5045 frame.
Modular anodized aluminium frame
The frame (50 x 45 mm) has a centre space of 30 mm, which can be filled with any material for stability or insulation purposes, such as PUR or EXPS, etc... and has a retracted area of 7.5 mm on both sides to receive a surface finishing sheet up to max. 7 mm thick. The finishing material should be glued to the aluminium frame on both sides. Maximum surface material thickness over the retracted area = 7 mm. Thicker materials can be used because of the centre core space, but they have to be machined to fit the outside edges of the frame. (see assembly manual for additional information)
Suggested finishing materials:
MDF or other solid wood solutions (moisture resistant advised)
6 mm thick Trespa panels
Solid solutions with HPL or veneer finishes
up to 7 mm of Hi-Macs, Corian or ceramic materials
2 sheets of 4 - 6 mm tempered or layered safety glass
---
Assembly & installation instructions
---
Reference material