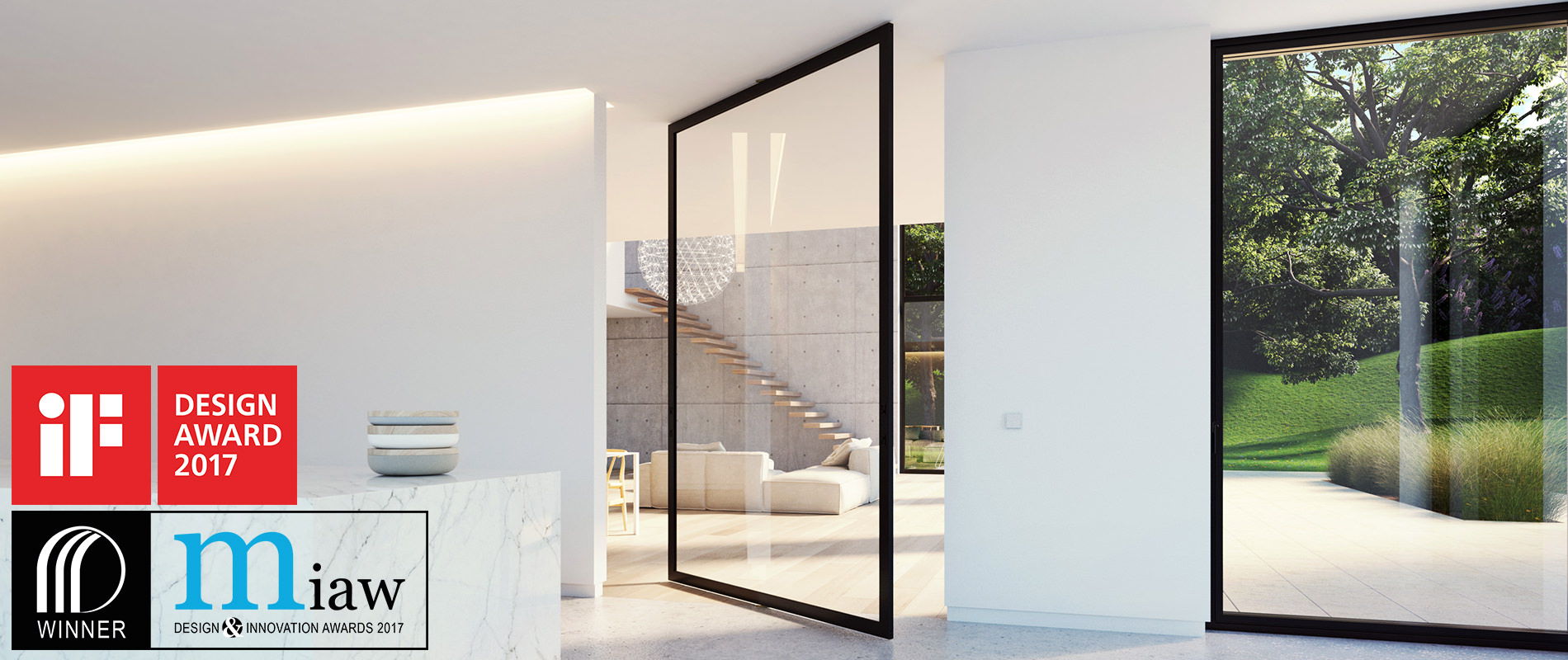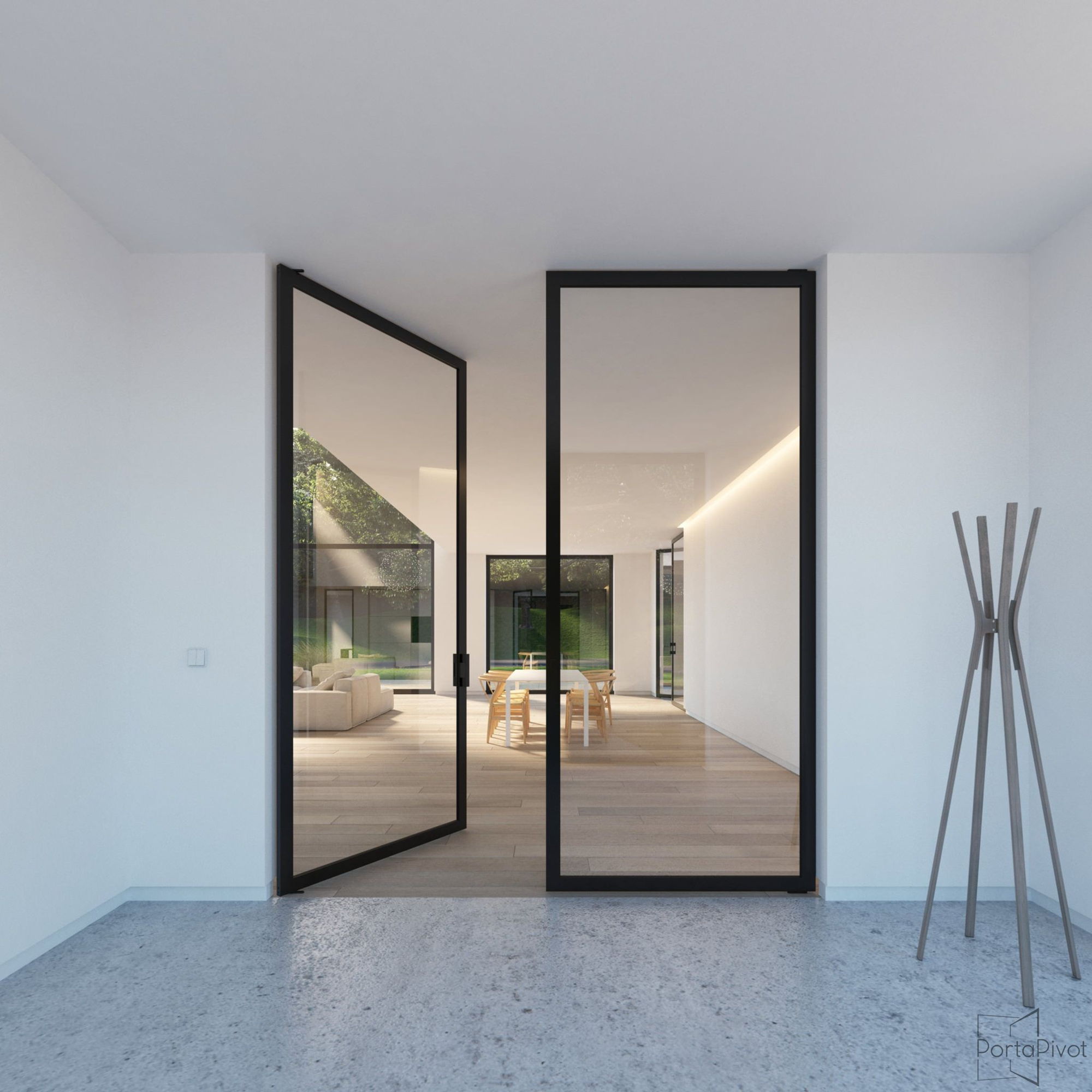 Pivoting room dividers
Glass pivot doors with a minimal aluminium frame
Portapivot 6530 system
Portapivot might just be the ideal solution to make a unique design statement in your clients interior.
We offer our pivoting eye-catcher in a custom-made kit, designed for interior professionals and craftsmen!
Our popular pivoting door is made with a minimal anodized aluminium frame, available in 3 colors. The frame can be fitted with any type of 6 or 8 mm thick tempered safety glass or other solid materials from 6 up to 12 mm. We advise 6 to 8 mm thick glass due to an overall weight advantage.
The frame is equipped with our "Stealth Pivot" pivoting hinges, designed specifically to be mounted on top of a finished surface, without the need for any built-in fixtures.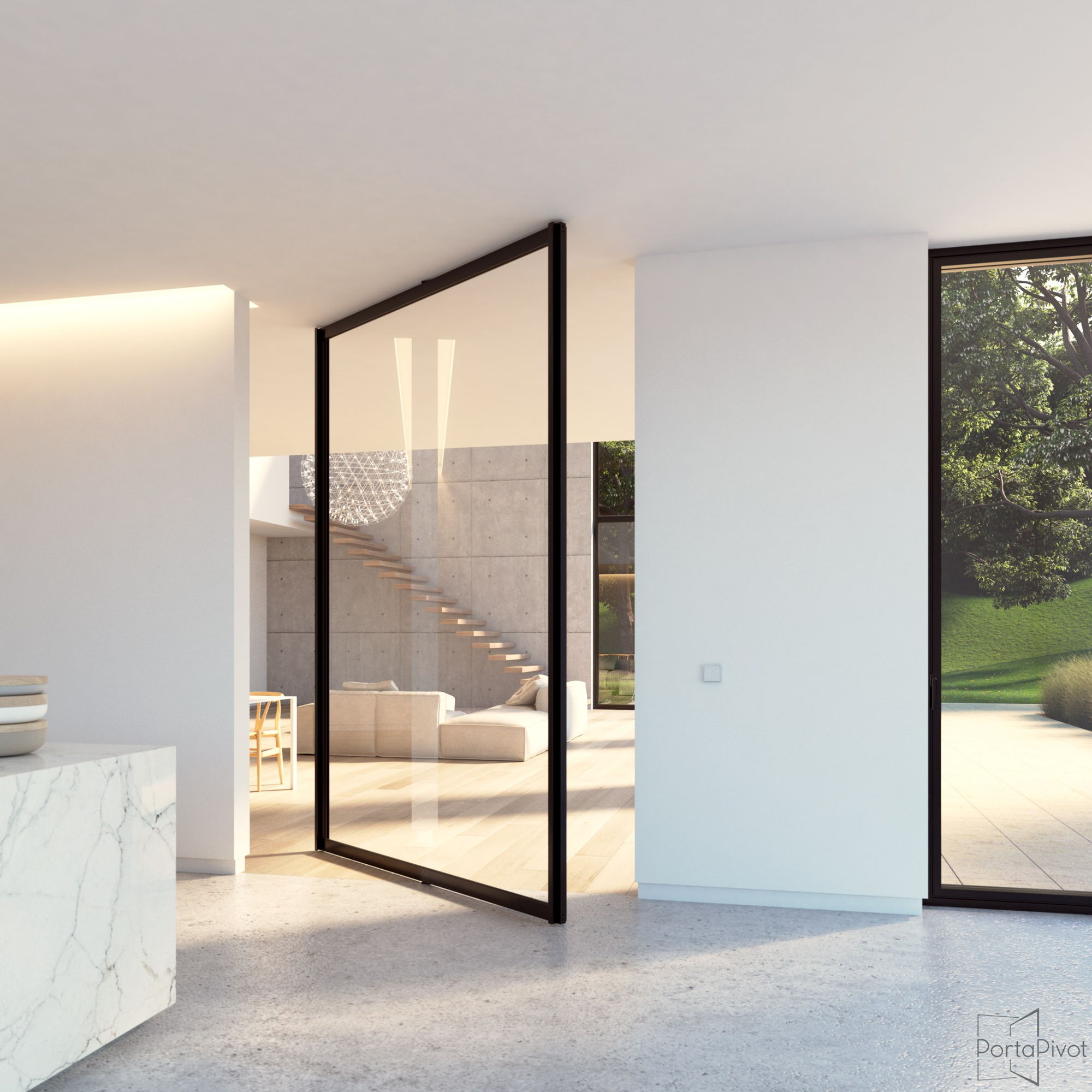 Innovative invisble pivoting hinges - Stealth Pivot
Portapivot' s pivoting doors are equipped with Stealth Pivot hinges, which feature a high-tech comfort closure, that works in all swing directions up to 360°.
These innovative hinges make it possible to tailor make a pivot door up to 150kg, that feels as light as a feather. Stealth pivot allows the door to swing in all possible directions. The hinges can pivot eccentrically at 80mm or 178mm for normal sized doors and can be positioned at 1/3 or centrally for the XL versions.
The top and bottom hinges are mounted on top of the finished floor and solid or reinforced ceiling surface, without the need for any integrated fixtures. The minimal anchoring (2 bolts +-4.5cm deep) allows for easy installation on any type of solid surface. During development, a great deal of attention went into ease of installation, so that the resulting pivot system could be used in both new and existing homes, regardless of the floor or ceiling construction.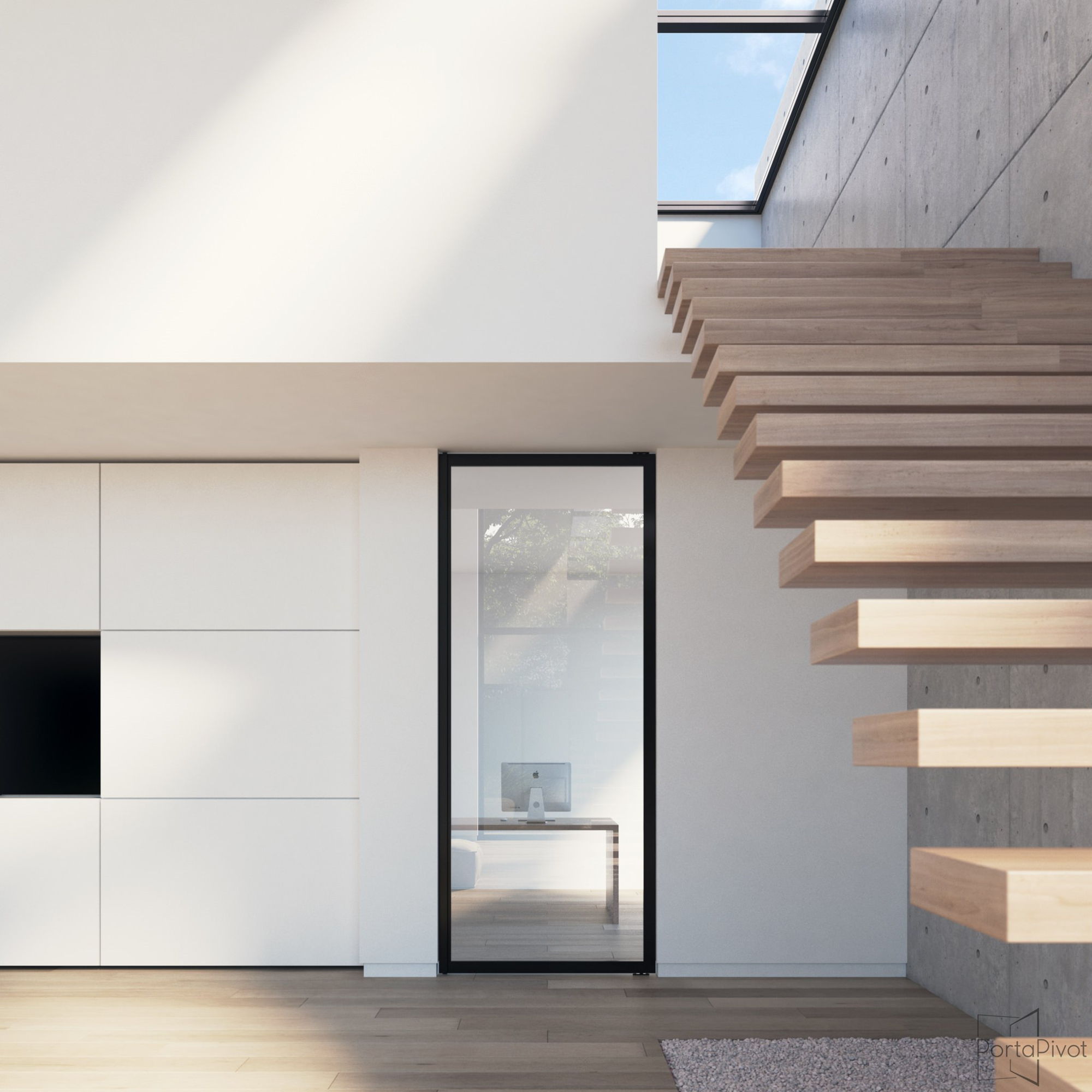 Custom-made "self-assembly" kit 
Portapivot's 6530 system is sold in a self-assembly kit, that consist of the aluminium frame, a set of stealth pivot hinges and all the necessary assembly and installation accessories. Only the glass sheet or solid finishing material needs to be sourced at a local supplier.
The 6530 frame is custom-build to your coordinated measurements. After we processed the order, we calculate the appropriate glass & panel dimensions and will send these by email along with your order confirmation.
You can calculate and specify the exact frame measurements upon ordering in our shop pages, using the "dimensions & joint calculation" tools.
The anodized aluminium frame can be equipped with a 6 to 8 mm thick tempered glass sheet or other solid materials up to 12 mm. There's a wide variety of interior grade glass and decorative finishes so you can personalize the door as desired by your clients. With glass or other heavy finishes, we advise to use the thinnest possible finish for weight purposes. 
Our products are designed for residential indoor use. We advise to measure and install our products in the fully finished construction.
Discover our Portapivot 6530 products:
By clicking on one of the images below, you will be taken straight to the appropriate product page in our online store.