Portapivot receives a prestigious Miaw Design & innovation award
Portapivot 6530 with Stealth Pivot is the winner of the MIAW 2017 in the category Fittings / Door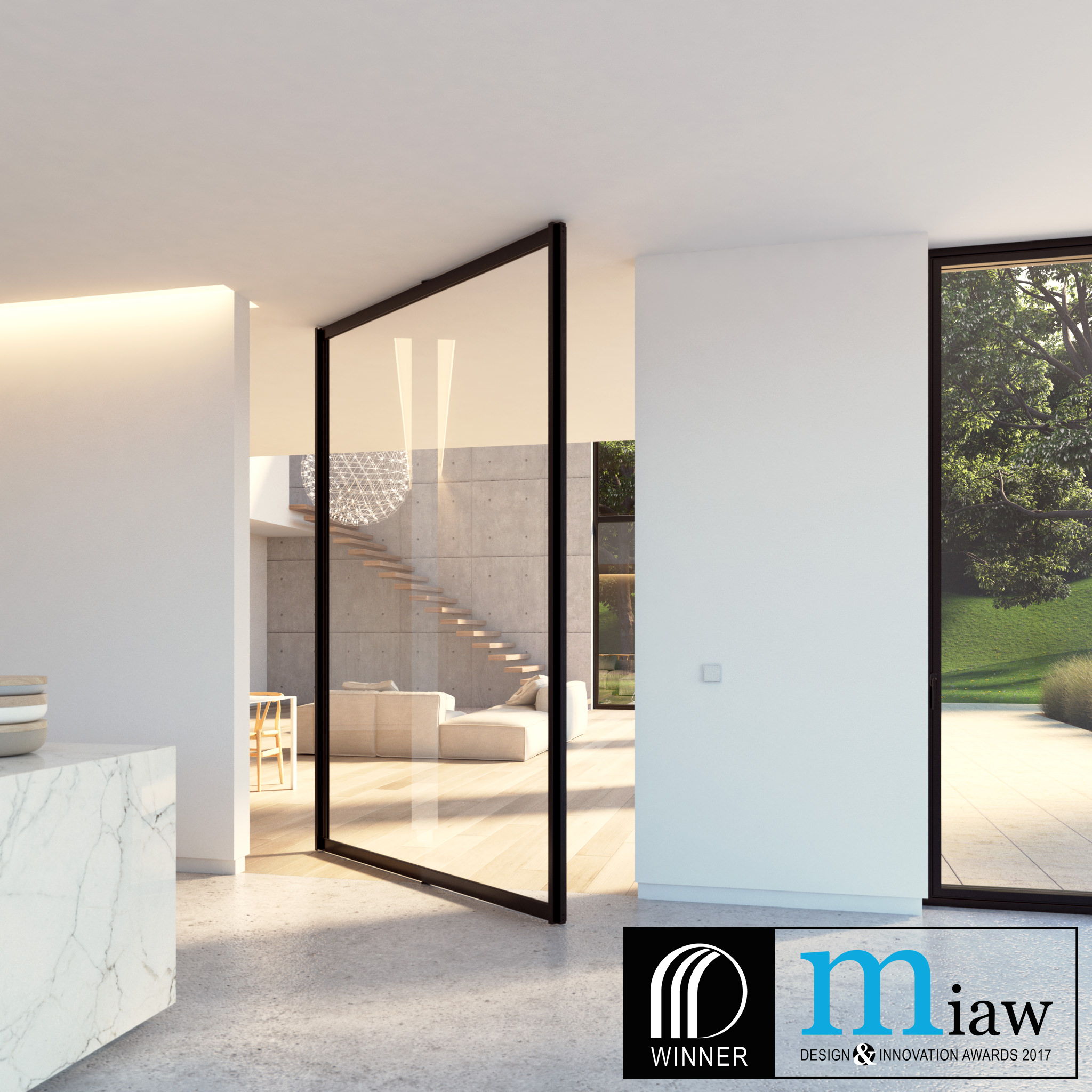 Miaw design & innovation awards 2017
The Muuuz International Awards (MIAW) reward the most creative manufacturers and promote the selected innovations.
As part of the 2017 edition, more than 2 200 products from 450 manufacturers have been studied and classified in the following 7 universes: Construction, Furnishing, Materials, Lighting, Furniture, Kitchen & Bath and Outdoor.
Only 30 products, representing manufacturers and designers of 10 countries, receive the prestigious Miaw award. The winners were unveiled last Thursday, 2 June 2017 during a ceremony at the Grand Hotel Intercontinental Opera in Paris.
Portapivot 6530 XL with Stealth Pivot hinge technology
With their discreet joinery and invisible XL pivoting hinges that swivel up to 360 °, the high-end interior pivot doors from Portapivot equipped with Stealth Pivot hinges, adapt perfectly to open atmosphere interior design projects.
Inside Portapivot's elegant frame hides the "Stealth" pivot hinge technology, an invisible pivot hinge, compact, innovative and adaptable to a large number of situations. A unique hinge system that is completely versatile, for a great comfort of opening and closing.

Portapivot's 6530 system goes further, with a XL glass & aluminium door - with the option of installing hardened, unbreakable or leavened glass of both 6 or 8 millimeters thick, or any other solid material up to 12 mm thick, combined with a minimalist anodized aluminum frame (65 x 30 mm), available in several customizable finishes and three anodised colors: silver, black and bronze.

Like all products in the range, it is equipped with a "stealth pivot", designed to be mounted on an already installed floor and under a solid or reinforced ceiling surface, without any pre-flush mounting system. The installation of the product is therefore easy, and possible in both new as excisting projects, with a minimum anchoring consisting of only two bolts implanted to ± 4,5 cm depth. Beyond the product itself, the whole installation process was carefully studied during the development phase, with the realization of an assembly kit delivered with the product.

With its XL hinge positioned on a central or offset axis, Portapivot 6530 XL is an ideal model for large swing doors weighing up to 150 kilograms. The axis can be placed at the third or center of the width, with an oscillation capacity of 90 °, 180 ° or 360 ° as a carousel. The closing force is adaptable with two types of gas springs (force 400N or 500N), which can be modified to best adapt the final strength of the hinge.
Read more at: Muuuz archidesignclub
The choice of the editorial staff:
Strengthened by 20 years of expertise, Portapivot receives the Muuuz International Award 2017, in the category Development / Doors & Fittings, for Portapivot 6530 with Stealth Pivot, a compact unobtrusive system with invisible hinges. In short, a system that knows how to be discreet while remaining efficient.